Michelle Annette nee Ruark Duggar (born September 13th 1966 [48yrs])

Michelle Annette Duggar (née Ruark) was born on September 13, 1966. She was very popular in high school and was a cheerleader. However, Michelle suffered from bulimia. She had this religious friend in high school and was watching a movie at her house one night. The movie ended with the world ending, which made Michelle ponder about her religous beliefs, as she had none. Her friend told her that she wasn't afraid of the world ending because she had God and Jesus. Michelle quit cheerleading and became a Christian. One day, she met and fell in love with a man named Jim Bob Duggar. They dated for a while and married on July 21, 1984.
Michelle is the mother of twenty-two children (including Caleb and Jubilee and Tyler). She is also the mother-in-law of Anna Duggar, Derek Dillard, and Ben Seewald. Michelle is also the grandmother to Mackenzie Duggar, Michael Duggar, Marcus Duggar, Meredith Duggar, Israel Dillard, and "Baby Seewald" (due November 1, 2015).
She is the matriarch of the Duggar clan and the daughter of Garrett and Ethel Ruark. She has six older siblings named Pam, Kathie, Garrett, Freda, Evelyn, and Carol. Michelle homeschools her children and is a licensed real estate agent.
Biography
Married: July 21, 1984
Future Plans: Finish memorizing Matthew 5, 6, and 7. She also hopets to pick up her violin lessons again.
Favorites:
Favorite Bible Verse: 11 Corinthians 12:9
Favorite Bible Characters: Joseph, Ruth, and Esther
Favorite Song: "It's Through The Blood"
Favorite Episode: "Special Duggar Delivery"
Favorite School Subject: English
Favorite Food: Ice cream, cornbread, etc.
Favorite Pastime: Hanging out with her family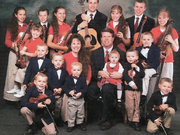 ==Gallery==
Episodes
Community content is available under
CC-BY-SA
unless otherwise noted.